All of our cakes and treats are made from scratch everyday, which is why they taste so good!
Our lovely Baker Dani who has been with us from the beginning
She makes all of our cakes and bakes from scratch every morning!
Chef Selection Cake Platter (1 per person)
A Delicious selection of all our Homemade cakes and treats served bite size on a platter to share, decorated with fresh mint, berries & a sprinkle of icing sugar.
OUR HOMEMADE CARROT CAKE IS HUGELY POPULAR, TOPPED WITH A GENEROUS HELPING OF CREAM CHEESE FROSTING & SPRINKLED WITH CRUSHED WALNUTS
A DISTINCT CHOCOLATE FLAVORED CAKE TOPPED WITH A THICK LAYER OF DELICIOUS CREAM CHEESE FROSTING
DELICATE ALMOND FLAVORED CAKES TOPPED WITH RASPBERRIES AND TOASTED FLAKED ALMONDS

OUR POPULAR GOOEY VEGAN BROWNIE IS SECOND TO NONE AND JUST AS MUCH A TREAT. SERIOUSLY CHOCOLATY & SPRINKLED WITH CRUMBLED RASPBERRIES
A CRUNCHY SHORTBREAD BASE TOPPED WITH OUR DELICIOUS SALTED CARAMEL AND A LAYER OF MILK CHOCOLATE
FLOURLESS CHOCOLATE BROWNIE GF ⁴ ⁷
SERIOUSLY CHOCOLATY BROWNIE THAT WILL SATISFY ANY SWEET TOOTH , MADE WITHOUT ANY FLOUR
CHOCOLATE BISCUIT CAKE ² ⁴ ⁷
A DOORSTEP OF CRUSHED DIGESTIVE BISCUITS & CHEWY MARSHMALLOWS SMOTHERED IN MILK CHOCOLATE
OUR EVER POPULAR VEGAN LOAF IS BURSTING WITH FLAVOR AND GOODNESS, WITH THE ADDED BONUS OF BEING VEGAN! SPRINKLED WITH TOASTED PUMPKIN SEEDS
CHOCOLATE CHIP COOKIE ² ⁴ ⁷
OVER SIZED CRUNCHY CHOCOLATE CHIP COOKIES WITH CHUNKS OF BOTH MILK AND WHITE CHOCOLATE
ORANGE & ALMOND CAKE GF ⁴ ¹⁰
A FLUFFY SPONGE WITH A TASTY COMBINATION OF ALMOND AND ORANGE ZEST. DUSTED WITH ICING SUGAR AND TOPPED WITH FRESH RASPBERRIES
VEGAN ENERGY BALL Ⓥ ¹⁰ ¹⁴
THESE POWERFUL ENERGY BALLS ARE PACKED FULL OF SUPER FOODS SUCH AS MEDJOOL DATES, CHIA SEEDS & CACAO, ROLLED IN DESICCATED COCONUT
OUR FABULOUS BANANA BREAD LOAF IS ONE OF OUR MOST POPULAR TREATS. A MOIST LOAF LOADED WITH SEEDS AND WALNUT PIECES
ORANGE & CRANBERRY FLAPJACKS ² ⁷ ¹⁴
OUR CHEWY GOLDEN FLAPJACKS WITH THE ADDED SWEETNESS OF CRANBERRIES & ORANGE ZEST
OUR VERSION OF THE CLASSIC BAKE WELL TART WITH ALL OF THE DELICIOUS LAYERS TOPPED WITH A STICKY APRICOT GLAZE AND TOASTED ALMONDS
FULL CAKES
Every cake from our kitchen is made by hand, made from scratch & made with you in mind. Totally customizable, get in touch to discuss your cake! Chocolate biscuit cake
Lemon Drizzle Cake
Flourless Orange & Almond Cake
Vegan Chocolate Cake
Chocolate Biscuit Cake
Chocolate Sponge Cake
Vanilla Sponge Cake
Red Velvet Cake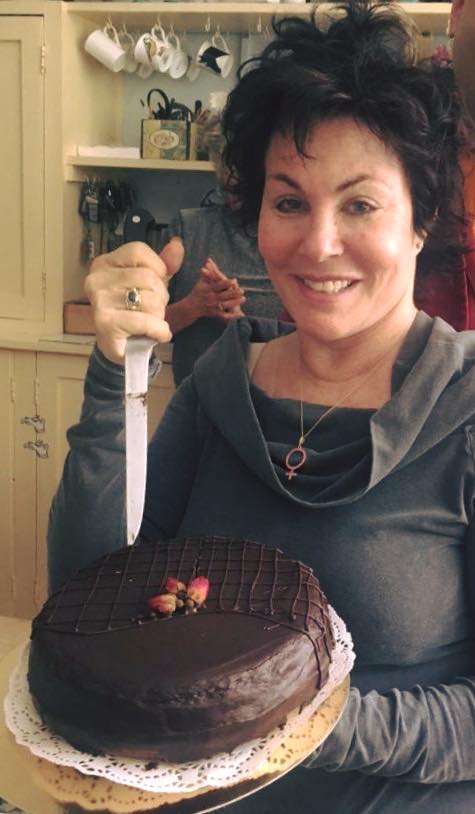 Ruby Wax about to get stuck into one of our delicious Sachertortes
• Weddings • Christenings • Birthdays • Confirmation & Communions• Cakes To Order
10''€45 (8-10 Slices) 12'' €80 (10 - 16 Slices)
Please email : Catering@thegoodfoodstore.ie
Prices can vary with additional requirements.
We Cater for all Dietary Requirements.